On Tuesday, April 20th, HUR USA hosted its first in a three-part series of 30 minute lunchtime webinars. The first webinar titled Wellness for All focused on the core elements of accessible fitness center design.
In addition to a presentation, the webinar featured a live demo of HUR's accessible strength equipment. The ease of use and safety built into all of HUR's equipment offers a perfect solution for both therapists and wellness center professionals who work with a wide range of ability levels. Below are my five key takeaways from the webinar.
Common Barriers to Fitness
The most common barriers to fitness for people with mobility limitations include: time, cost, transportation, lack of social support, and diminished self-efficacy. Providing a space that is appropriate, safe, and welcoming can break down those barriers and result in better community engagement followed by increased wellness participation at all ability levels.
Why Does Accessibility & Inclusivity Matter
There are as many as 54 million Americans, or nearly 20 percent of the population, with a disability or activity limitation. It matters that we reach this significant population. At some point in all our lives, we will all experience some degree of physical limitation, and that should not stop us on our path to living well.
Assess Your Access
Assessing the spacing and location of your equipment is important. Accessible routes and placement of turning areas should be considered when planning your space. HUR offers multi-function machines which leave more open space in the room, because four exercises are performed on one machine.
Making Your Space Welcoming
Go beyond the minimum requirements of ADA laws for doors and bathrooms and incorporate principles of universal design to make your facility usable and welcoming to many more people. Replace old exercise equipment with accessible equipment designed for varying degrees of ability. This will build a sense of community and inclusiveness.
HUR is Truly Accessible
HUR analog equipment has large, easy to use, mushroom buttons
HUR equipment comes with range limiters for safety
HUR machines have a variety of large, comfortable multi-grip handles
HUR Hi5 equipment automatically adjusts seat height, lever arms, resistance, and sets, making it easy for even those with little experience to exercise with confidence
HUR Accessible line has a roll in/roll out design, eliminating the need for a transfer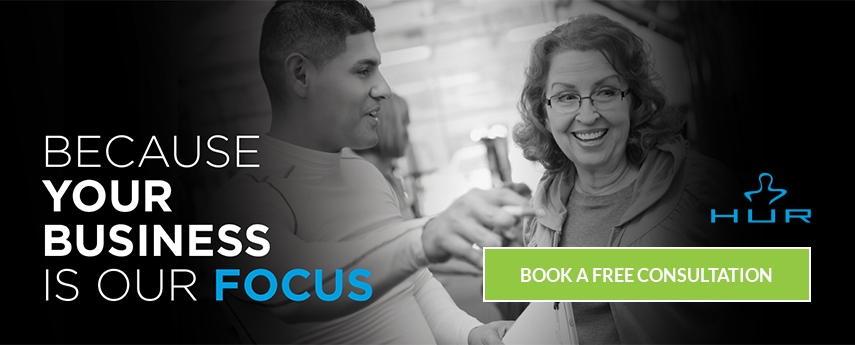 Back